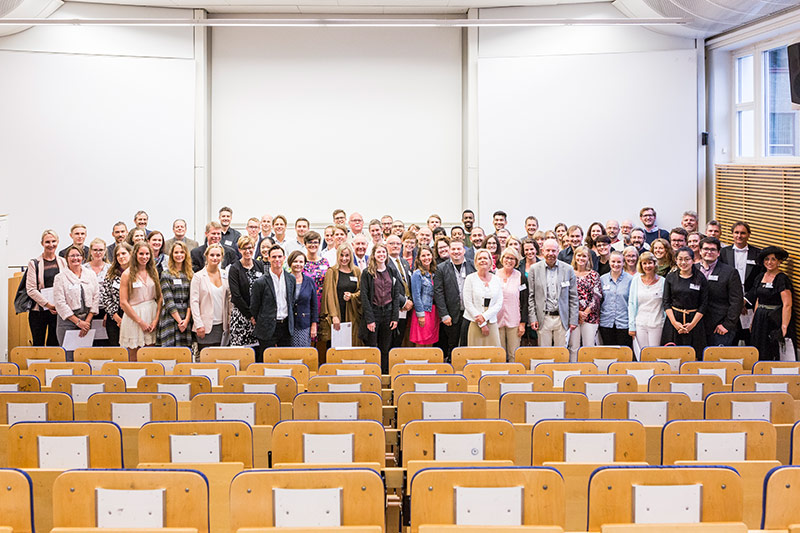 59 grants were awarded last Tuesday to 59 happy receivers. The summera had a temporary rest but the Swedish flags waved over Lund School of Economics when Sten K Johnson Foundation had its fourth grant award ceremony.
Efter en kort inledning fick vi en rapport från en av förra årets stipendiater, Filip Celander från Agrilogik "Mobil gödselseparering-lönsamt och hållbar för svenskt lantbruk". Filip gav oss en fantastisk bild av entreprenörskapets vedermödor och segrar.
Stipendiaterna fick sedan ta emot sina stipendier ur styrelsens händer. Inom varje område fick en av stipendiaterna berätta om sitt projekt:
After a brief introduction we got a report from one of last projects, Filip Celander from Agrilogic who got a grant in 2015 for the project "Mobile separated manure solids – profitable and sustainable for Swedish agriculture". Filip gave us a fantastic view of entrepreneurship hardships and victories. the grants were received from the Board's hands. Within each area one of the projects were presented to the audience.
Entrepreneurship
Linda Wrangmark och Frida McCabe – "IV Bracelet"
Culture
Johan Hammar – "Teeming wetlands"
Literature
Gudbjörg Erlingsdóttir – "Interdisciplinary perspectives on the potential and challenges of eHealth"
Medicine
Karin Jirström – "Improved personalised cancer treatment using single patient tissue"
Music
Tomas Löndhal – "Courses in musical performance related to The Royal Academy's of Music project Live Musical Heritage"
Technology
Remi Loren – Hampahus – "a climate-smart building system"
Education
Linda Sikström och Daniel Prsa – "Teachers as Leaders"
After the grant receivers were photographed food was served, people mingled and were entertained by a Fanny Gunnarsson Quartet who received a grant in Music.
Categories